Covid-19
Berlin City COVID-19 Updates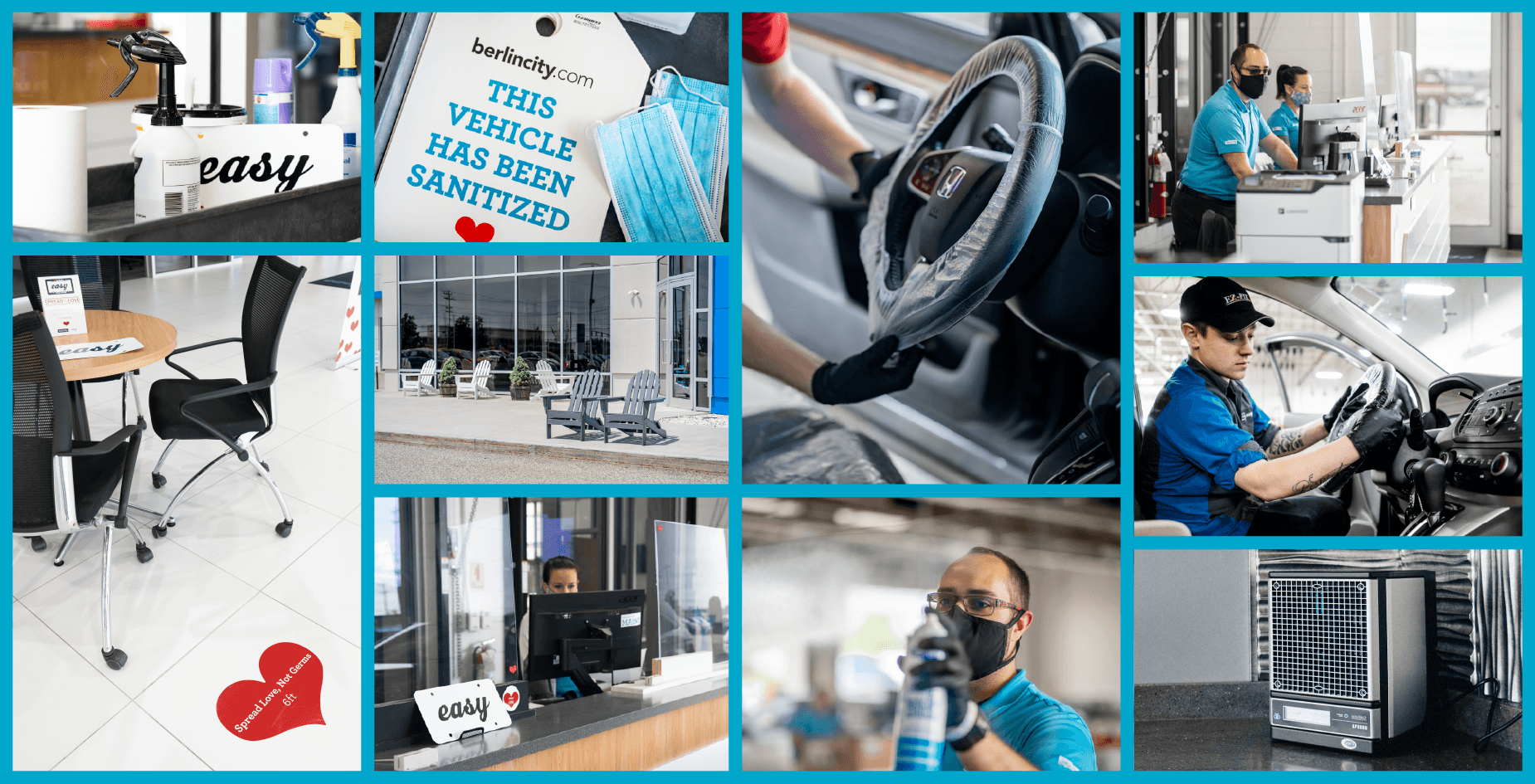 COVID-19 Preparedness Update July 31st, 2020
We REMAIN DILIGENTLY COMMITTED TO THE HEALTH AND WELL-BEING OF OUR EMPLOYEES, CUSTOMERS AND COMMUNITY.
At Berlin City Honda we are continuing to take a number of actions to control the spread of COVID-19 in accordance with the expert guidance of the CDC and local public health authorities. Below is an at-a-glance overview of what we're doing and will continue to do to keep everyone safe.
Mandatory Face masks

Face masks are required to be worn by all staff and customers. Masks will be provided to customers at the dealership if they do not have one.

Social Distancing

We have removed and arranged furniture and added signage throughout the dealership to allow for proper 6-foot social distancing.
We have installed plexiglass shields for all high traffic customer contact areas.
We have created outdoor, open-air seating and waiting areas for customers.

Enhanced cleaning and Sanitization measures 

We regularly disinfect high touch surfaces and sanitize vehicles between test drives and before returning to customers after service.
Complimentary hand sanitizer, mask and glove stations are accesible throughout the dealership.
We have installed ActivePure®air filtration systems into high traffic areas. ActivePure uses Nasa Certified technology to reduce airborne and surface contaminants.

Pro-Active Health Screening: 

All employees have their temperatures taken when they arrive at the dealership.
Employees who are not feeling well or have a fever are required to remain home for the allotted time recommended by the CDC.
Any employee that has traveled outside of the state must quarantine for a pre-determined amount of time before returning to work.
We have conducted company-wide COVID-19 testing for employees and will continue to do so on an as-needed basis.

Providing our Customers Options: 

With our next day door-to-door vehicle delivery program you can buy your car from the comfort of home without ever having to come to the dealership.
We continue to offer pick-up and delivery for service.
We've implemented self-check-in and contactless drop-off options for service customers.
We've implemented online payments for service and parts customers so they can pay online without having to come inside the dealership.
Our New & Improved Delivery Options
Update: April 20th, 2020
You may have seen our previous message regarding the delivery options we provide, but we want you to know that we are continuously working to better meet your needs. Our new and improved options include:
Contactless Drop-Off At Our Service Center
As we are aware of those who still need their vehicle to commute to and from work, our service center is remaining open for any automotive maintenance you may need. You can get your car serviced, while still maintaining your safety through social distancing.
At-Home Services for Select Recalls
Our technicians can complete some recalls at your home or office. This varies by vehicle and recall type, so please contact the store to find out if your vehicle qualifies.
Newly-Expanded Radius for Pick-Up & Delivery
As we are working to better serve our community, we now offer service pick-up and delivery. Our door-to-door delivery program allows you to get your vehicle serviced without ever having to leave your home. The pick-up & delivery is complimentary for customer within a 10-mile radius of the dealership. If your home or office is outside 10 miles:
Here For You And There For You
Update: March 26th, 2020
Attention Valuable Customers
For your and our employee's safety, the State of Maine and Vermont have issued a temporary shutdown of our showrooms. Service and parts remain open. However, our showroom is still open in New Hampshire, but we are available to transact online as well.
We can still transact online if you are in need of a vehicle immediately. You can inquire through our website and we can work the entire process online. This includes evaluation of trade-in, secure credit applications to obtain financing and presentation of all figures for the transaction.
We will be open for normal hours for our service and parts departments. You can schedule your appointment online or simply call us- we do offer pick-up and delivery!
Updated Hours: Berlin City Honda of Portland: Monday – Saturday Sales 9am to 6pm | Monday – Friday Service 8am to 5pm, Saturday 8am – 2pm
Berlin City Nissan of Portland: Monday – Saturday Sales 9am – 7pm | Monday – Friday Service 8am – 3pm, Saturday 8am – 2pm
Berlin City Toyota of Portland: Monday – Saturday Sales 9am – 6pm | Monday – Saturday Service 8am to 3pm
Berlin City Lexus of Portland: Monday – Saturday Sales 9am – 6pm. Monday – Friday Parts and Service 8am – 3pm, Saturday Closed
Berlin City Kia of Vermont: Monday – Saturday Sales 9am – 6pm | Monday – Friday Service 8am, Saturday 8am – 2pm
Berlin City Ford Lincoln NH, Berlin City CDJR NH, Berlin City Honda, Nissan NH, Kia NH, Toyota NH Monday – Saturday Sales 9am-5pm. Monday – Friday Service 7am-4pm, Saturday Service 8am-4pm
Berlin City Chevy / GM NHL: Sales Monday – Saturday 8am-5pm | Monday – Friday Parts and Service 7am-5pm, Saturday 8am-2pm
We thank you for your patience as we navigate through these new protocols. Please stay safe and we hope to see you again soon.
Covid-19 Financial Relief
Update: March 24, 2020
Content included just for reference please contact financial institution for up to date information.
Update: March 20th, 2020
Here at Berlin City Honda, we are committed to the health of our employees, customers and suppliers. We are doing all we can at our dealership as well as expanding our business model to accommodate sales directly to you.
This includes
Enhanced sanitation of our dealerships and vehicles
Remote test drives to your door
Remote trade evaluations
New and used vehicle delivery within 24 hours
Pick-up returns
We are grateful to be part of such a vibrant community. Ready to serve you now more than ever.
Valued Customers,
On behalf of everyone here at Berlin City Auto Group I'd like to thank you for your business and ensure you that our number one priority has been and will always be taking care of our customers and employees.
We have been closely monitoring the evolving situation regarding coronavirus (COVID-19). Our core focus at this time is caring for the health and well-being of our customers and employees. In addition, we are doing our part to play an active role in helping to contain the spread of this virus in our local communities.
In response to this developing health concern we have increased cleaning and sanitizing procedures within the sales and service departments.  We have instructed all employees to comply with CDC Guidelines for illness prevention by washing their hands, limiting person-to-person contact and staying home if they or a family member show symptoms of this illness.
We want to assure you that we are committed to doing our part to minimize the impact of this virus.  Some of the additional precautionary measures we are taking to protect our customers and team members include:
Staff education – we are providing our team with extra guidance on how to protect themselves and those they come in contact with to minimize the spread of germs.  Our team has been empowered to promptly report any symptoms of illness or potential exposure.  Our team has been instructed not to report to work if they are sick or believe they have been exposed.
Vehicle handling – every vehicle, whether it is one of our vehicles for sale or a customer vehicle will be wiped down with sanitizing solutions on all key touch areas – door handles, dashboard controls, center consoles, etc. before and after either a staff member or customer interacts with a vehicle.  Our technician staff are using protective gloves while servicing and operating all vehicles.
Vehicle test drives – we understand that a vehicle test drive is an important part of the car buying experience. During this heightened alert time, we are offering customers the option to test drive a vehicle unaccompanied if you have any concerns about person to person contact.
Our entire team of automotive professionals takes great pride in the quality, experience and value we offer our customers.  While we are currently maintaining regular operations, our dealerships are prepared to modify the ways we service your automotive needs.  As always, we offer off-site delivery for new and used vehicle sales and in some cases, we are able to accommodate for service pick-up and delivery. Please visit our website or contact your local dealership for details.
We will continue to monitor this rapidly evolving situation and make adjustments to our safety protocol as needed to ensure we are complying with CDC guidelines and putting the health and safety of our customers and employees first.
Thank you for your trust in us to do what is necessary to keep you safe and make your experiences with our dealerships as easy and enjoyable.
Sincerely,
Yegor Malinovskii
Regional President
Berlin City Auto Group